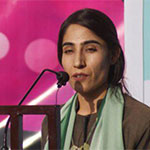 Dearest Carla, Laura, Graziella and Cristiana,
I am deeply saddened for the loss of our great and powerful person. I want you to know that we all thinking of you and everyone are going through this difficult time. Please accept my condolence.
I had known Cristina for many years since my youngest age as valued friend and supporter. I am sure the AFCECO family knows Cristina much as I did. She was a wonderful person, and what became her passion a committed supporter, first for supporting Afghan women and then being so kind and supportive to our children. What many people may not have known is that Cristina was a builder of hope for every one of us. Cristina is in my heart and I can't forget her. I still can't believe she left us too soon. My heart is broken for the loss of our Beloved Cristina
I did not want to write to you before because I thought you might not be in a good situation.
I love you all and send you lots of kisses and hugs.
Pashtana